Back to Newsroom
July 27 2021
Casting Workbook hosts virtual summit led by top Spanish casting directors with over 100 Agents across 12 Spanish countries
Casting directors Carla Hool, Mercedes Gironella & Luis Gimeno were on hand to help rollout Casting Workbook's massive Spanish platform, while news of an exclusive global breakdown from a major studio network was also announced.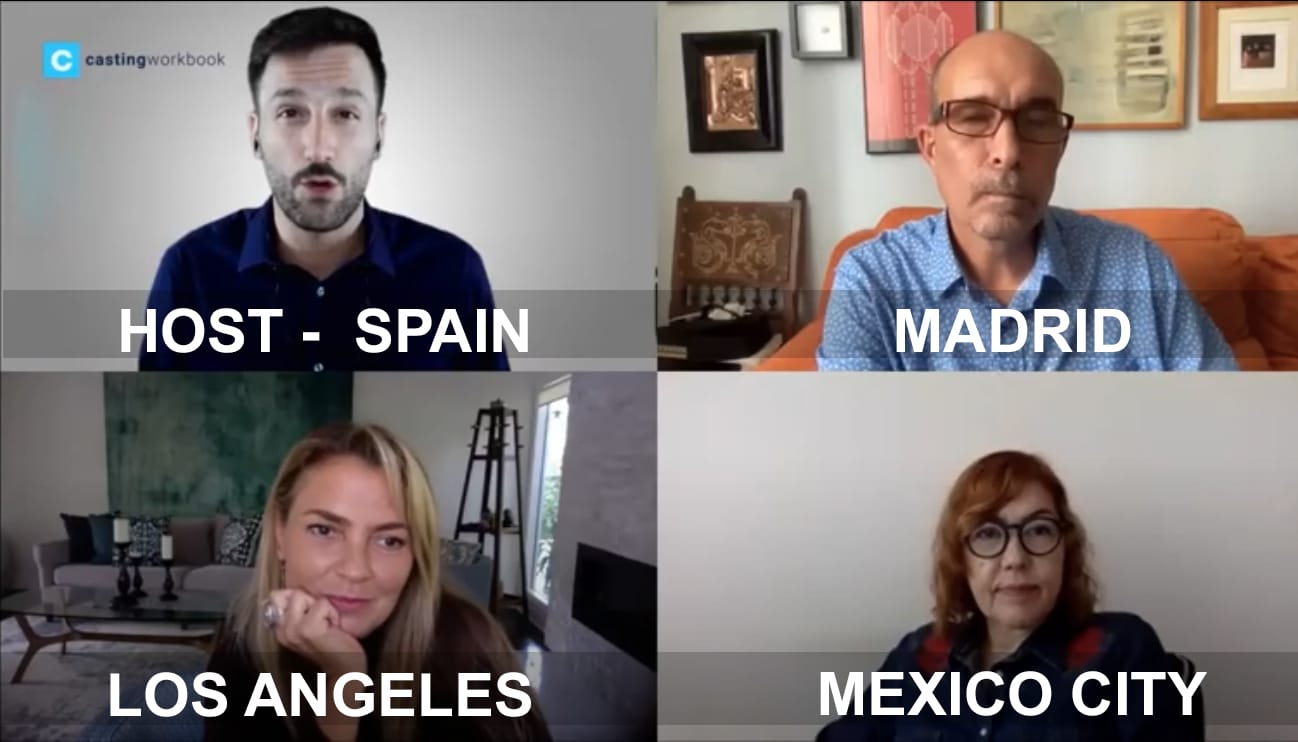 (Los Angeles, CA) July 27, 2021 – Casting Workbook announced today the success of reaching another strategic milestone as the company celebrated further expansion into 12 countries, with Spanish-speaking talent agents now on board from Spain, Latin & South America and Mexico. As the company charts new ground for Spanish-speaking talent where no other enterprise casting services company has been before, they are continuing to lay the foundation towards the goal of being the most expansive and complete casting service in the world.
Recently, Casting Workbook hosted a private invitation-only virtual summit bringing together some of the biggest Spanish-talent agents in the world. Over the 60-minute summit, the audience was able to connect directly with 3 of the top Spanish Casting Directors from Mexico, Spain and the US (Los Angeles). Further, a massive studio project was announced to the agents with an open breakdown looking for top Spanish-speaking talent from a major global media company to be posted exclusively on Casting Workbook.
The announcement today comes on the heels of more than 3 years of careful planning as the company's global expansion efforts to support Spanish-speaking talent continues to thrive. Earlier this year, Casting Workbook Español was announced with more than 450,000 Spanish-speaking actors & talent joining the Casting Workbook global network as the company acquired the Madrid-based talent network Vibuk.
Link to Casting Workbook's Spanish Virtual Summit
"I feel we have achieved a major milestone toward our 3-year vision to join Spanish speaking productions, casting directors, talent agents and talent under one professional platform in all countries. This allows for more seamless integration and better opportunities for everyone."
Susan Fox, Founder & CEO – Casting Workbook
"We are pleased with such a great turnout after a long process of working diligently with top-notch agents and casting directors to see this momentum."
Felipe San Juan, Vice President Europe & LATAM – Casting Workbook
About Casting Workbook:
For over 25 years, Casting Workbook has been driving the industry forward with our leading-edge enterprise casting software. By bridging essential communications between production, casting, agents and their talent, we've worked with some of the biggest production studios including Disney, Netflix, Universal, HBO, Fox Features, Lions Gate, Sony, Nickelodeon and many more.
Our global network is now almost 500,000 English, French and Spanish members strong, with offices in Los Angeles, Vancouver, Toronto, Montreal & Madrid. Our service sets the industry standard with innovative tools to help actors search for jobs, submit self-tapes, work seamlessly with their agents, and develop their craft and build their careers. Whether watching our popular weekly series The Working Actor, auditioning virtually through our Virtual Casting Room (VCR) or submitting a self-tape on our top-rated mobile Actor App, our goal is to be the #1 casting software and service provider to actors, agents and casting directors all over the world.

To learn more, visit www.castingworkbook.com
Or visit our Newsroom here: https://home.castingworkbook.com/newsroom/
Media Contact: Christopher Ian Bennett, President & Chief Marketing Officer
christopher.bennett@castingworkbook.com
Instagram: CastingWorkbookPresident