Back to Newsroom
November 16 2022
The Performers Mindset & Casting Workbook launch the 'Actors Mindset Masterclass'
Casting Workbook and The Performers Mindset have partnered to offer a unique acting masterclass series designed to support and empower artists before, during and after the audition.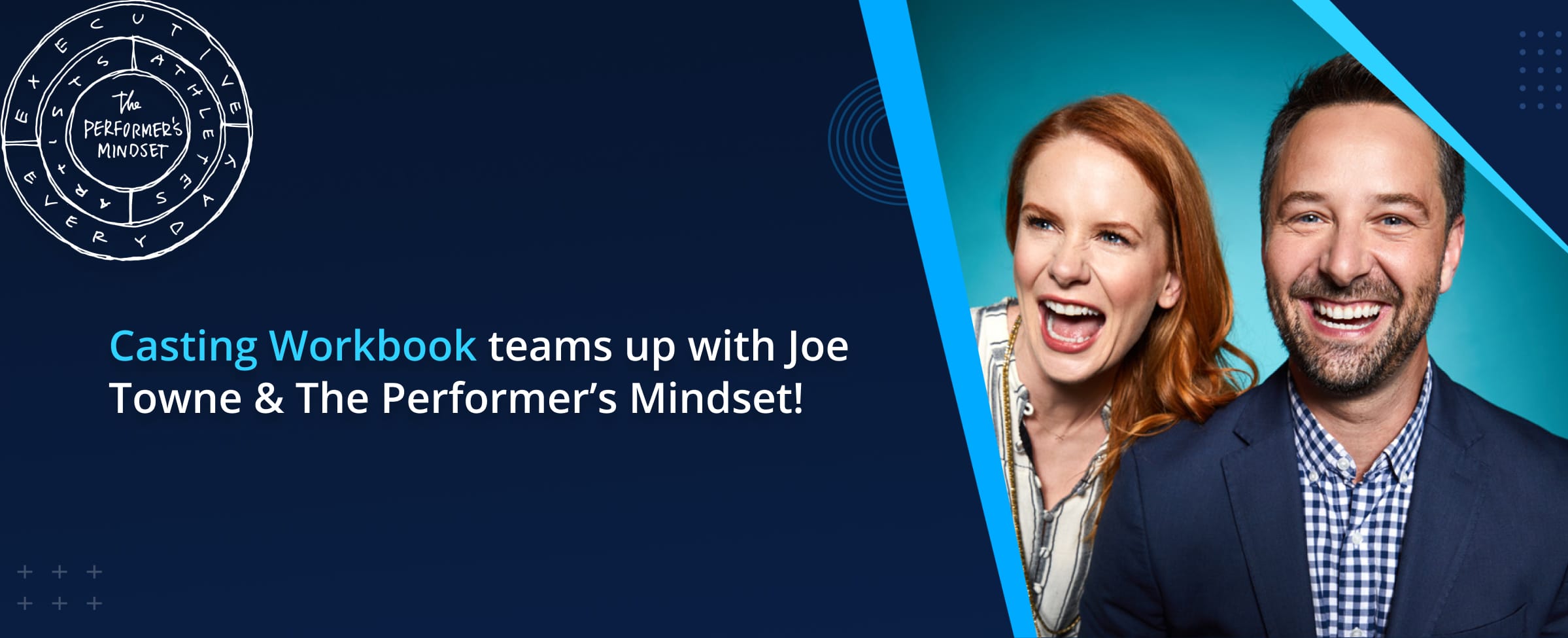 Announcement highlights
Through a partnership with The Performers Mindset, Casting Workbook adds an exciting new Masterclass series to help Actors to support and empower actors before, during and after auditions and performances.
The Masterclass series is offered through six-part online education series offered in three bundles consisting of two videos and education materials each.
All three bundles now available, starting with Flow & Grow – Better Growth Mindset + Creative Flow.
Today, Casting Workbook and The Performers Mindset have partnered to offer a unique acting masterclass series designed to support and empower artists before, during and after the audition.
The Masterclass is an exciting new online education series that provides artists with valuable tools and a framework that can be used immediately. Elite athletes and world class musicians know that daily practice habits are non-negotiable. If they want their best to show up at and during a performance – actors also need to practice daily, and this Masterclass series helps actors optimize their preparation for upcoming auditions and acting jobs.
The Masterclass is a six-part video series that is carefully curated and offered in three bundles, as follows:
Flow & Grow: Mindset Essentials to Elevate your Craft
(Includes Better Growth Mindset + Creative Flow)
Switch On and Cool Down: Pre & Post Game Routines for Optimal Performance
(Includes Pre-Game Ritual and Post Game Recovery)
Beyond the Words: Unlocking Story and Empowered Play
(Includes Script Analysis and Beyond Memorization)
"Our relationship with Casting Workbook has been growing for several years now. First, we collaborated to provide actor support during the global pandemic that left most of us feeling isolated, afraid for our futures and disconnected from the art that is our life's blood. We know that Casting Workbook is an absolute leader in their field by helping actors to get the audition. We want to make sure actors are ready for every opportunity and to be healthy, growing in their abilities and be able to sustain their abilities for the long haul."
– Joe Towne, Founder and CEO, The Performers Mindset
"The Performers Mindset Masterclass punctuates Casting Workbook's commitment to bring valuable tools and resources to the acting community. Over time, our actor members have told us that they need training and support to get the right mindset pre, during and post audition.
Through our experience with Joe and The Performers Mindset team we believe they are the best in class to provide this training and coaching."
– Susan Fox, Founder and CEO, Casting Workbook
About Casting Workbook:
For over 25 years, we have been driving the industry forward with leading-edge enterprise casting software. By bridging essential communications between production, casting, agents, and their talent,we've worked with some of the biggest production studios
including Disney, Netflix, Universal, HBO, Fox Features, Lionsgate, Sony, Nickelodeon and many more.
Our global network consists of offices in Los Angeles, Vancouver, Toronto, Montreal, Mexico City & Madrid with Actors, Casting Directors, and Agents in over 50 countries. Services are offered in English, French and Spanish. Our B2C service was recently ranked #1 globally as part of Help Scout's annual Award Ranking of12,000 companies in over 140 countries.
We offer innovative tools to help actors search jobs, submit self-tapes, work seamlessly with their agents, and develop their craft while they build their careers. Whether watching our popular Original Content programming, auditioning virtually through our Virtual Casting Room (VCR), or submitting a self-tape on our top-rated mobile Actor App offered in both the Apple App Store and Google Play Store, our goal is to be the #1 casting software and service provider to actors, agents, and casting directors globally.
About The Performers Mindset
The Performers Mindset team led by Joe Towne are experts in the Performing Space. They help actors,athletes, and executives elevate their approach.
To learn more about the Actors Mindset Masterclass: https://the-actors-mindset-miniseries.thinkific.com/collections
Media Contact: Susan Fox, Founder and Chief Executive Officer at susan.fox@castingworkbook.com.